NEW OLD WESTERN STYLE
Afternoon Style Merchants. Last weekend I went digging about through history in my style cellar. I found a cache of old photographs, clothes, records and even dragged up my old man's Revolver turntable and connected it. It's lead to a period of looking back, listening back and generally reminiscing. One could also describe it as procrastination, but there's one angle immerging that interests me with a future/current bent. Western style. My Dad, Don Stubbs, Country & Western scene got me at it on a number of levels but its linked in with a new take on Western out the men's style planes this season.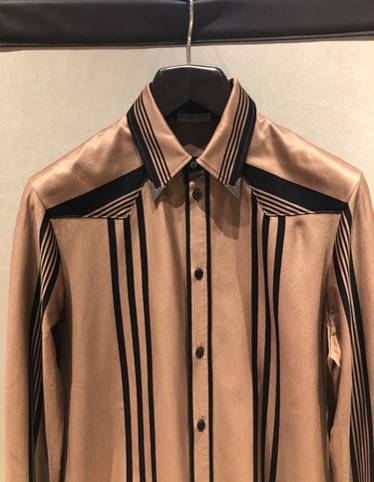 Bottega Veneta Western shirt..
...with metal collar tips. Quite pro-darts player- which is only a good thing.
There's a load of other Western shirts both trad and modernised, some emblazoned Nudie Cohn style, some paired back and futurised, like with Raf at Calvin, but first, let's stick something on from Don Country favorites, The Outlaws.
There's loads more Western stuff. I've got a whole corral of it. Also, diggin' Bolo ties, like those at Balmain, and Coach appliqued suede shirts.
Gonna stick up a couple more bits, but for now, am giving the idea that Western-style works for all ages of men. Western-style be it old or new, now that interests me big time. Those old country boys get bang into it, fully fancy and flossing, yet they don't look too ridiculous- do they?
Balmain evening wear with Bolo tie
A little snake-hip Western waiter, but chic still.
From last weekend I also realised I bloody love The Outlaws stuff. Don't care how that sits with coolness. Funny how Don's transposed his taste on to me. Same with his love of swimming, it might be genetic. Hey! that's a thought... western swimming trunks. That's something I've simply gotta get in involved with. Stay tuned.
This far from over. Loads of stuff to consider. New denim stances, and not to mention fact that pointed western style boots with a heel are the story the year for men, never mind the season. Stay tuned, boys.
Stubbs out.
* Juergen Teller, cellar.